2018 KIA Stinger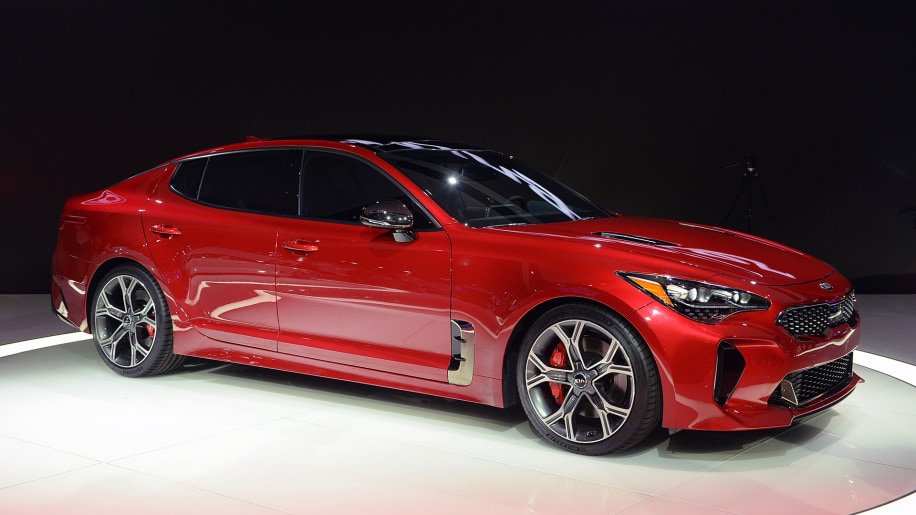 Stinger Inventory
Get Financing
Service
Find Parts
Contact Us
New 2018 KIA Stinger Now Available at Monroeville Kia for Monroeville, PA
The 2018 Kia Stinger is a five-passenger fastback sports sedan, authentically based on the 'Gran Turismo' style of race-cars. It is a dream of a car brought into reality, and the first of its genre to be made by Kia. Rear-wheel-drive, and it has the fitting proportions to match, including a lengthy hood, trimmed front overhang, a longer wheelbase, and an extensive rear overhang. The Stinger model looks like it is not to be trifled with, yet also inviting to the sophisticated crowd, plus it intentionally incorporates Kia's excellence in craftsmanship and comfortability. The Stinger for 2018 is well-rounded in all the areas you need, yet also adds more zest and power to the driving experience!
 Under the Stinger's Hood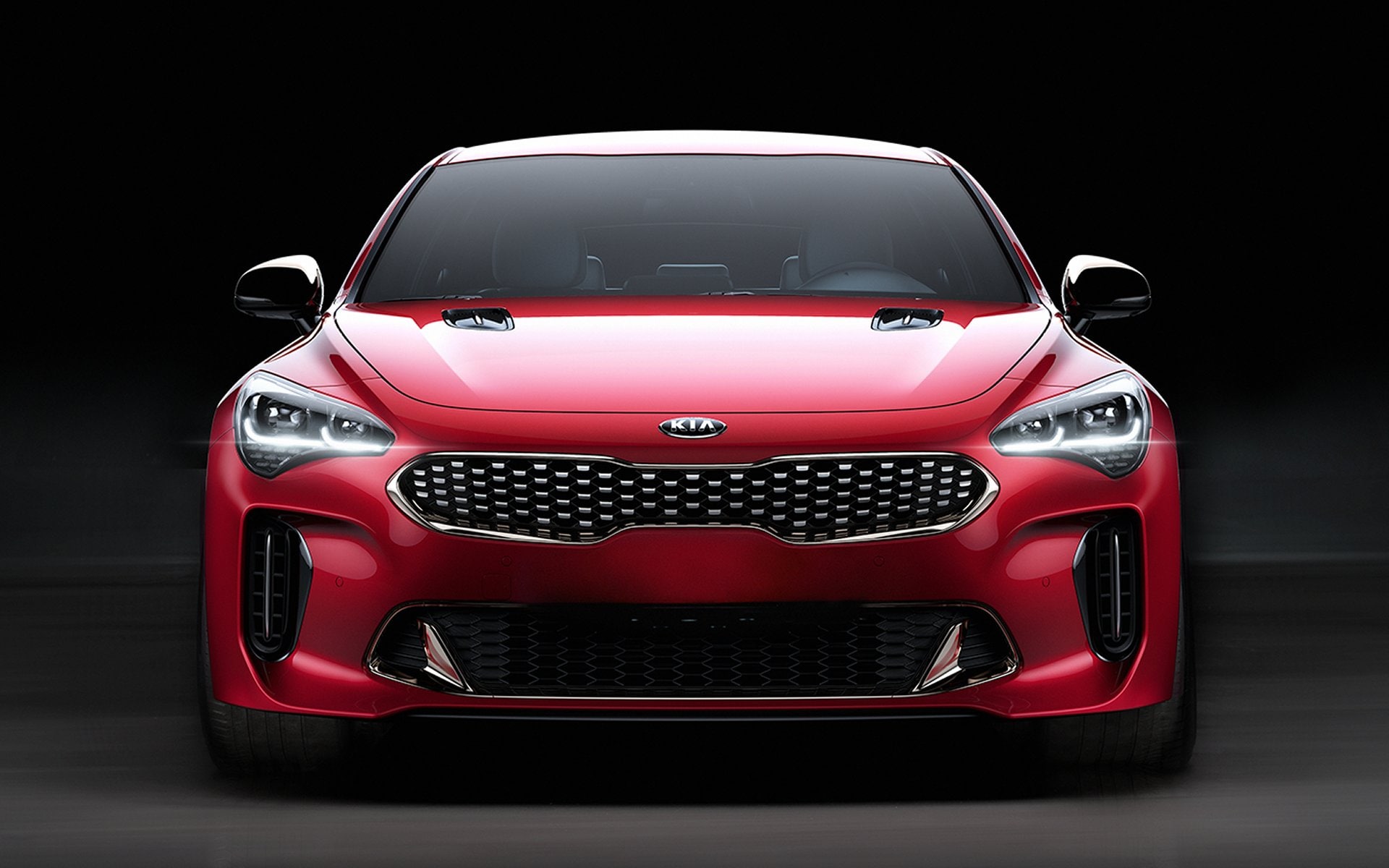 Standard variable-ratio rack-mounted motor-driven power steering makes its presence known, and a choice of 2 turbocharged engines are available. Ride-damping and vehicle maneuvering setting can be customized by the driver with the use of an electronically adjustable suspension titled Dynamic Stability Damping Control, which is a new-to-Kia item. The system is accessed through 5 drive modes: Sport, Comfort, Personal, Eco, and Smart. There is a standard 2.0-liter turbo 4-cylinder Theta II engine that should see an estimated 255 horsepower at about 6,200 rpm, with nearly 260 lb-ft. for torque. The alternate engine is the option for a 3.3-liter twin-turbo V6 Lambda II, which should see 365 horsepower at a potential for 6,000 rpm, with max torque of nearly 376 lb.-ft. at 1,300 - 4,500 rpm. The Stinger gathers into its arsenal a 2nd-gen 8-speed rear-drive automatic transmission, with a Centrifugal Pendulum Absorber (CPA) torque converter to assist in mitigating vibrations within the drivetrain from torsion. Up to 5 separate shift patterns can be picked via the Stinger's electronic drive-mode system. Interestingly, this is Kia's debut of an all-wheel drive system in a sedan. This AWD system is calibrated to run and feel like the RWD version until adverse road conditions invoke its functions automatically. Utilizing a chassis made of 55% advanced high-strength steel, the Stinger offers an ultra-stiff base for the ride-and-handling performance tuning. Brembo2 vented disc brakes are standard on the 3.3L twin turbo version and have back-end 2-piston calipers and 4-piston front calipers.
 Design of KIA Stinger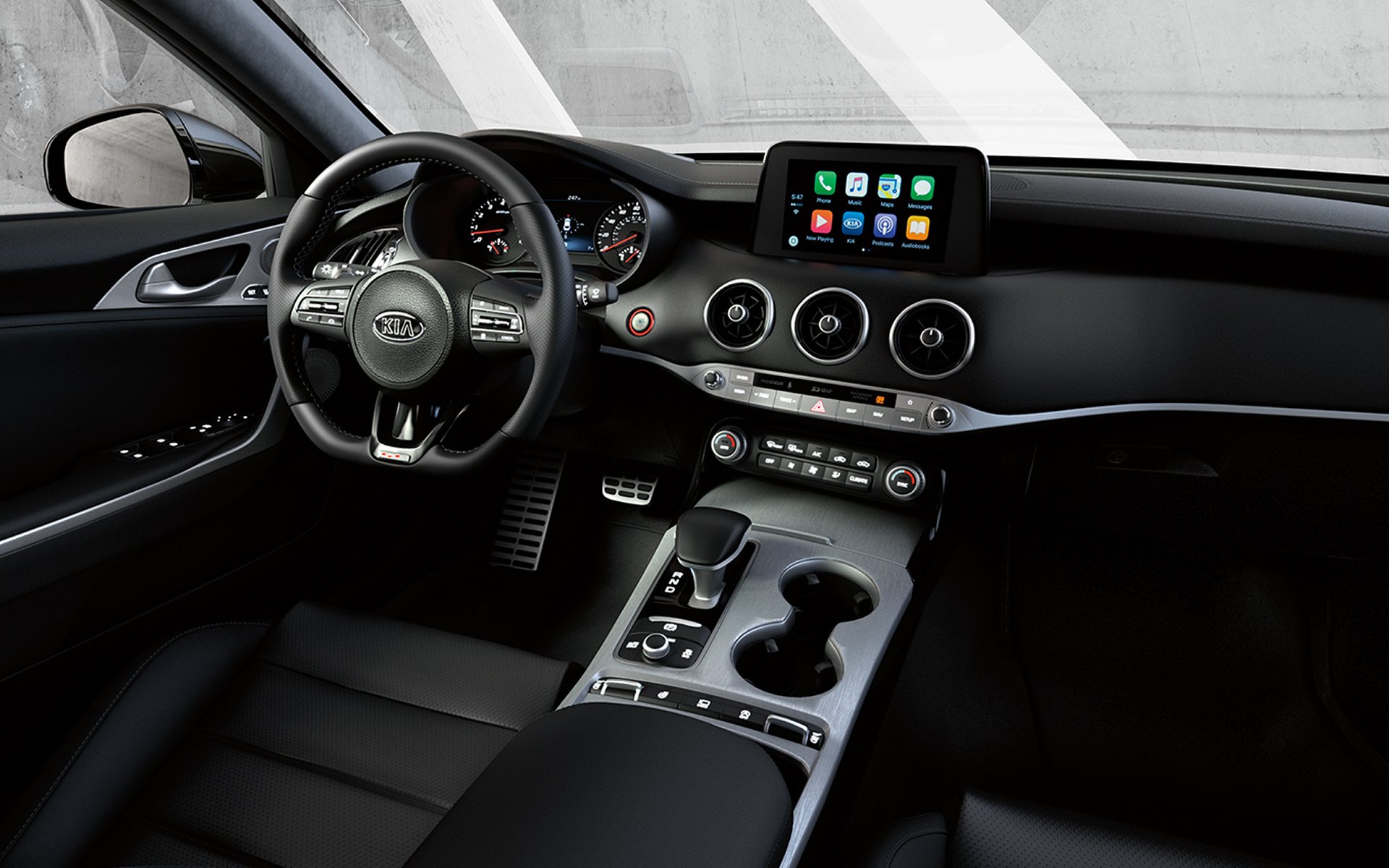 There are currently 2 models for this vehicle, the Stinger and the Stinger GT. 18-inch tires are standard on the Stinger, while 19-inch tires are standard on the GT version. Kia's signature 'tiger-nose' grille is immediately recognizable, between vibrant LED headlights. The well-graded windshield couples with the remaining exterior design to look sleek and ready at all times. There are items that assist in cutting through the wind, such as a seamless underbody, front air curtains, gills on the wheel arches, and a rear integrated diffuser. The infotainment buttons and dials are located beneath a color touchscreen in the center console, and environmental controls sit just below that. A color TFT screen supplies performance data like lap times, G-forces on corners, driver settings, engine-oil temp, trip computer, diagnostics, and navigation. Both front and rear leg room is quite spacious especially in the segment, and when paired with the well-thought-out lowered seating levels, it showcases excellent head room for all passengers. Looking out the windshield, drivers can opt to enjoy a color, height-changeable Head-Up Display (HUD)5 that informs drivers of sound & cruise control settings, speed, navigation, and Blind Spot Detection alerts. Nestled in the middle console are Bluetooth6 and a Smartphone wireless charging pad as standard, in addition to steering-wheel mounted controls.
Where can I get my Kia serviced?
Visit our service department to handle all your service needs! Click the link to schedule a service today! Click to Schedule Service!
Do others recommend shopping at Monroeville Kia?
Check out our customer reviews & see for yourself why customers love Monroeville Kia! See reviews left by real customers! Click for Our Reviews!
What engines are in the 2018 Kia Stinger?
The Stinger has a 2.0L turbocharged I4 Theta II engine with 255-hp, while the Stinger GT has a 3.3L Twin Turbo V6 Lambda II engine with 365-hp!
Conclusions
The new Driver Attention Alert (DAA)4 system is found inside the 2018 Stinger to assist with sleepy or distracted drivers, utilizing warning chimes and alert graphics in those types of situations. Inside there is a lot of assistive safety features, such as Advanced Smart Cruise Control (ASCC)3, which keeps a pre-set space between the Stinger and the vehicle in front and can perform a complete stop in snarled traffic. Forward Collision Assistance (FCA)3 with integrated Autonomous Emergency Braking (AEB)3 builds on that and adds a fine-tuned nuance to include stopping for hard to see pedestrians as well. Rear Cross Traffic Alert (RCTA)3 as well as Lane Keep Assist (LKA)3 also make their welcome appearance. As of this writing, airbag placement and crash-test scores are unavailable, but Kia has a strong showing in its vehicles, with as much (if not more) attention going to this important area! We can't wait for more info on this refined powerhouse from Kia, keep tabs on when it will be in our lot by giving us a call at (888) 380-7617 here at Monroeville Kia!
Read Our Other Reviews
2017 KIA Forte
2017 KIA Optima
2017 KIA Soul